Stripe vs PayPal - the better choice is Stripe !!
Let us start with WHY Stripe is the better choice.  Stripe is the closest thing to a true MERCHANT ACCOUNT as you can get.  There is no "Buyer Protection Program" which will interfere with your sale - unless you violate Stripe Terms, the FTC Mail order rule, or are a general fraudster.  There is a thing known as "friendly fraud" where buyers set out when purchasing to try to set up a charge back scenario to scam a free item. 
Stripe leaves you to the Network rules through the bankcard network and does not interfere.  That is huge - especially on a high ticket item and the Bankcard networks traditionally support your policy of the sale if it is clear and especially if it is a click through - or found on the same page as the advertised items you are selling.  Banks look for friendly fraudsters trying to chargeback and usually deny them - whereas PayPal enables them by not looking closely at all.   
That does not mean an attempted chargeback does not sting and the money is taken immediately pending the outcome - it just means Stripe won't interfere with their policies which may conflict with your or state law like PayPal does.
There is site at  https://wpdatatables.com/paypal-vs-stripe/ which has an article this one is based on which has a skewed view toward PayPal as being better - and they do not address that above at all or consider it.  To a merchant - living in fear of friendly fraud charge backs and interference with PayPal's "Buyer Protection Program" whether direct on through eBay is terrifying.
Stripe is the only real competitor for PayPal in the payment gateway industry. Stripe Inc enhances a full spectrum of payment types and processes a full range of currencies. Unlike PayPal, which is a frontend "aggregator" payment processing brand,
Stripe is a backstage "merchant account" type  payment processor. In fact Stripes terms integrate you with Wells Fargo Bank. Stripe payment processing does not involve an email frontend account as PayPal does and your clients will get to interact with your website alone; they will not interact with the Stripe website.  They cannot tell the difference between simply paying with a BankCard
The Benefits of Using Stripe
Stripe credit card processing is simple and straightforward because that's what Stripe does: it processes credit card payments. It is as simple as that.
Stripe provides access to more payment options than PayPal and these options may include Bitcoin, Apple Pay, Android Pay, e-checks, credit and debit cards, ECH and EFT transfers, whichever you choose or want to demand to accept.
Stripe offers a myriad of API integrations, which means that you no longer need to depend on Stripe's internal analytics and reporting exclusively, but you can smoothly integrate their dashboard with lots of software.
Stripe has dedicated libraries for major platforms built on PHP, React Native, Ruby, Angular, Laravel, Vue, and others, and provides dedicated plugins for major platforms, such as WordPress, as well as Joomla, Drupal, Magento, and others.
Stripe is used by some of the world's giants, including Target, Blue Apron, UnderArmour, and Facebook, which goes to show its reputation.
Here on this site we handle all of that above for you as a connected customer of ours to Stripe.
The Downsides of Using Stripe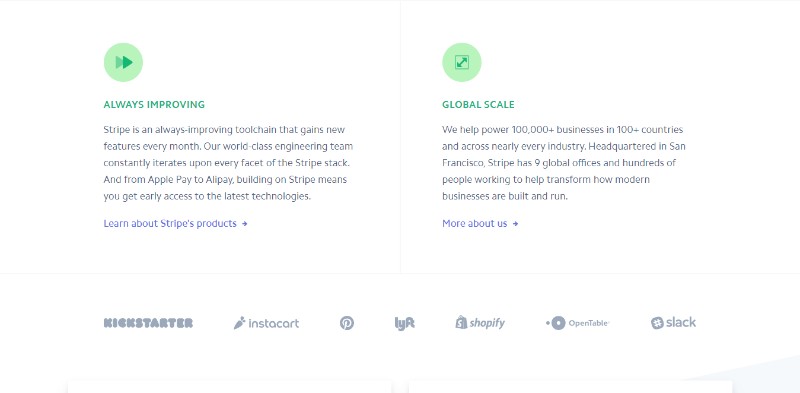 Setup if you are doing it yourself: in a direct Paypal vs Stripe comparison PayPal gets to win with its easy setup process. Stripe's setup is a difficult if you are doing it  and its major downside as a payment processor unless yiou have a ready to go module for a website frontend.. The painful setup has driven many sellers into the arms of PayPal because they want the easy route.  However for a customer who does not want to set up a PayPal account - it is something that can drive customers away.
Stripe involves juggling with the API key one time and your site absolutely needs an SSL certificate, but here we use a wildcard cert for all stores with a yourstorename.bigbay4bestbuys.com
Availability: Stripe's availability is worldwide to many countries on their service list, but is limited to some locations and banks, although their network is currently expanding. You must live in a country that is supported to take payments via Stripe.
If you live in the United States, you can take payments from customers that live in Stripe supported countries and some that are not.
Paypal vs Stripe
Reporting Tool: when you consider Paypal vs Stripe, you must consider their ability to generate reports and Stripe's Sigma wins because it allows you to create tailored SQL queries to produce reports. Stripe's reporting tool allows the generation of customizable reports, which is a great benefit if you are looking to analyze significant business data or integration with for instance Quickbooks.
Virtual Terminal: PayPal has a virtual terminal, and surprisingly, Stripe does have the same solutions despite starting as and online processor. .  A virtual terminal is essential to certain brick and mortar or mobile businesses, especially those that require PCI compliance.
Both Stripe and PayPal focus on offering a solution to online payments processing, but their approach is different:
PayPal is the easy-to-use, entry-level online payment solution that is within reach of anyone with a minimum understanding of technology and e-commerce. It is a multi-feature payment solution (POS integrations, invoicing, mPOS) that works online and offline.  It can also cost you lost of money in losses via friendly fraud you can do nothing about or combat because PayPal enables it.
Stripe is a developer-level, online payment solution created for businesses requiring a technology-based tool that can be customized extensively. Stripe is ideal for those who can utilize and need online payment processing with lots of customizable features they can take with them if they build a new website
Contrary to the  belief of the site mentioned above, Stripe does have POS Terminal abilities and solutions.  See e.g. https://stripe.com/terminal and https://payworks.com/stripe as the The Miura M010 is the ideal card reader choice for both mobile and stationary card acceptance. Together with the optional stand, it also works perfectly as a counter-top device. 

Using the Miura M010, merchants can accept all sorts of card payments, including contactless and mobile payments like Apple Pay, Android Pay and Samsung Pay.  it is even available on Amazon to purchase for under $100.
The final word on the Paypal vs Stripe comparison
The site above has got it wrong.  Stripe is the better option.
You can come to a full conclusion after you consider several key facts about each online payment processor when you consider Paypal vs Stripe:
Stripe has lots of ready to go payment processing front ends or modules depending on the platform your webstore is one and is a good option for developers, while PayPal is the ideal plug-and-play solution for newbies
Stripe is popular, but PayPal is a more popular and more powerful brand.
PayPal's pricing is ideal for non-profit organizations, while Stripe offers fewer fees for micropayments, recurring billing, and chargebacks, and other similar things. but to use higher ticket charge back type or custom items - PayPal is asking for trouble.
The Privacy Policy we use is found HERE  (it may default to https://stripe.com/us/privacy )
See also https://bigbay4bestbuys.com/content/terms-service-andor-use for the full terms of our site.
There is a free limited item store or  monthly fee associated with most all other accounts depending on which account you selected when you signed up for licensed products or webstore accounts beyond the free amount of 5 items listed, and there are some prohibited business activities we may cancel you account for without question - see https://stripe.com/us/prohibited-businesses.  Some of these may be waived or collected in advance as part of the initial vending of the item.
We may provide you an interface to a webstore presence to sell your items and to collect fees by Bank Cards through Wells Fargo on a platform called "STRIPE:, and if we do, this agreement shall also apply and by continuing to register if you use our service through us tio STRIPE you also agree to this agreement here => https://stripe.com/connect/account-terms which is the Stripe Connected Account Agreement,
Payment processing services for  sellers on our platform are provided by Stripe and are subject to the Stripe Connected Account Agreement, which includes the Stripe Terms of Service (collectively, the "Stripe Services Agreement"). By agreeing to this agreement or continuing to register on this site and these terms or continuing to operate as an account holder or affiliate on this site our platform you agree to be bound by the Stripe Services Agreement, as the same may be modified by Stripe from time to time. As a condition of our platform enabling payment processing services through Stripe, you agree to provide our platform - bigbay4bestbuys.com and any affiliated site of ours,  accurate and complete information about you and your business, and you authorize us to share it and transaction information related to your use of the payment processing services provided by Stripe.
We do not have a "Buyer Protection Program"; as technically such a thing is illegal under California law if not administered strictly in compliance with consumer and merchant rights by a duly licensed legal professional.  PayPal and eBay have repeatedly found themselves in lawsuit after lawsuit all primarily surrounding what they are trying to call "safe" Buyer Protection Program efforts.  We are an order facilitator primarily and ship only those items we actually stock and sell.  Most times the listing will say if it sold by us directly.  Often we can offer a product at a less expensive price than one finds on eBay - because eBay's fees are typically 10 to 15 percent and ours are zero to 3 percent.  We do however enforce the terms and provisions of the FTC Mail Order Rule as to shipping and notice requirements as to all sellers on this site
We act as an  "Electronic fund transfer service provider" (TSP) if we provide you a web store presence  [See 12 eCFR §205.14]  but we will adhere our conduct and business operations under application of the Federal Trade Commission "Mail Order Rule" as do we expect of the trading member.  [See 16 CFR Part 435] for regulatory requirements for such commerce, including Internet based sales operators; and, our role under the Uniform Commercial Code  (UCC) which most all States have a version of incorporated into their State Codes and which also bind 15 USC 7001 to 7031 – the Electronic Signatures in Global and National Commerce Act thereto.  The California Uniform Commercial Code, codifies and expands the UCC of which a general index of a definition of terms of the parties involved is found at UCC  §2-103.  In matters in our control we will adhere to the Electronic Funds Transfer Act  (EFTA) where applicable and in regard to matters of request for refund set forth in 12 CFR 1005.34.   In all other cases if there is a clear violation of these Terms of 'Service we may take action, but in most other areas where there is difference of opinion as to goods received or ordered or terms of the transaction, the terms of the transaction shall control and the parties involved find themselves with the option to file the matter in a court of law.  We may, and you agree,  in our discretion, pending the outcome of the court action, suspend both the members' trading rights on our platform.
In issues under our control we use the Federal Trade Commission (FTC) Mail Order Rule as a guide to issues which is also know a the Telephone sales rule but applies to Internet commerce also as amended.   See the links embedded or https://www.ftc.gov/tips-advice/business-center/guidance/business-guide-ftcs-mail-internet-or-telephone-order   and  https://www.ftc.gov/news-events/press-releases/2014/09/ftc-issues-final-amendments-mail-or-telephone-order-merchandise also known as 16 CFR Part 435  also found here =>  https://www.law.cornell.edu/cfr/text/16/part-435  Those links as to rules having the force and effect of law are incorporated herein to this document..
See our terms of service for more thorough details